7.8 mm wide cable ties
Minimum quantity : 1000 pieces, conditioning : by 100 pieces
Nylon cable ties
In polyamid 6.6 without any halogens, they comply with fire-norms (UL94V2). They have a good resistance, oils, fats, oil products, solvents and resist from -40° to +80°C temperatures.
Recyclable material
To tighten better, use a plastic PSP8 or metallic PSGL pair of pliers.
 Their tensile strength is 55 kg.
  These ties are available in stock in black and frosted in 10 lengths :
120-180-200-240-300-360-460-540-615-750 mm
 You can get them coloured : blue, grey, yellow, brown, red, green, purple in 375 mm long, in stock or in 4-6 weeks.
They can be hotfoiled or lasermarked (depending on colours) in our workshop (name, numbering)
Free samples on request
Dimensions of the 7.8 mm tie
| | | | |
| --- | --- | --- | --- |
| Dimensions (mm) | Diamètre mini. de serrage (mm) | Diamètre maxi. de serrage (mm) | Résistance à la traction (Kg) |
| 7.8 x 120 | 3.5 | 25 | 55 |
| 7.8 x 180 | 4.5 | 45 | 55 |
| 7.8 x 200 | 3.5 | 52 | 55 |
| 7.8 x 240 | 3.5 | 63 | 55 |
| 7.8 x 300 | 4 | 80 | 55 |
| 7.8 x 360 | 8 | 100 | 55 |
| 7.8 x 460 | 35 | 130 | 55 |
| 7.8 x 540 | 35 | 158 | 55 |
| 7.8 x 615 | 35 | 177 | 55 |
| 7.8 x 750 | 35 | 220 | 55 |
Closure type :
Progressive tightening
Standard packaging :
100 pcs bags
Delivery time for personalised product :
3 to 4 weeks
MOQ for stock product :
1.000 pcs
Minimum quantity : 1000 pieces, conditioning : by 100 pieces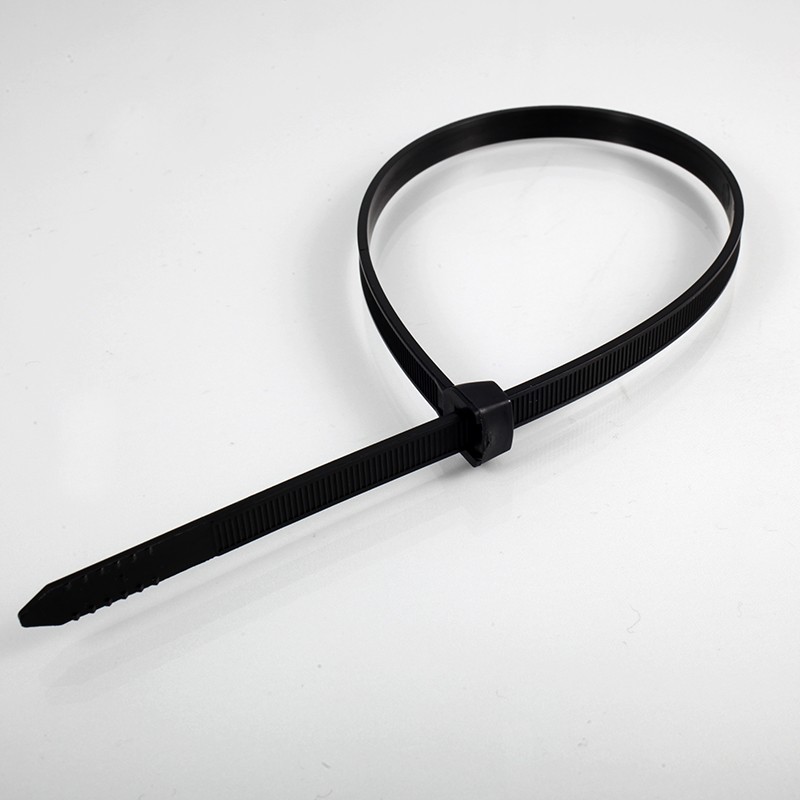  