Polyamide 11 is a bioplastic derived from castor oil. It was discovered in 1947 in Serquigny by three French chemists from the company Organico. It was named Rilsan in honour of the Risle River that runs through the city. Before processing, it takes the form of granules, powder or a textile fibre.
Polyamide 11 was originally used in the form of fibres used to make lightweight fabrics. Their production costs being quite high, they were abandoned in the 1970s in favour of nylon.
What are the parts made of polyamide 11 ?
Following the development of the transformation of engineering plastics, polyamide 11 could be heated and moulded to take various forms. From now on, it is used to manufacture different parts as strong as steel. Thanks to its strength, light weight and waterproof properties, it is recommended for many sectors such as the automotive, medical, oil and gas industries. Polyamide 11 can be used to manufacture bicycle saddles, fuel lines, battery tanks, underwater flexible pipes, Rilsan clamps to tighten various hoses (sheaths, pipes, pipes, pipes,...), running shoe soles, oxygen masks, spectacle frames, cable ties...
What are the advantages of this bioplastic ?
In addition to the above-mentioned characteristics, polyamide 11 is flexible, UV-resistant, smooth, resistant to chemicals, fats, acids, salts, weather and fuels, and resistant to temperature variations, high pressures, shocks, humidity, abrasion and weather.
Who produces the Rilsan ?
Currently, polyamide 11 is produced by the French chemical group Arkema. The group is divided into three business segments: industrial specialties, coating solutions and high-performance materials, including the production of Rilsan. To manufacture 1 tonne of polyamide 11, approximately 2.7 tonnes of castor oil is required. The latter is extracted from castor seeds mainly from India, China and Brazil. Once the oil has been extracted, Arkema produces Rilsan in these French, American and Chinese plants.
In addition to polyamide 11, Arkema also produces other plastics that originate from castor oil.
What polyamide 11 products are available from Etigo ?
We do not offer products made of polyamide 11 but polyamide 6.6, better known as nylon. Of vegetable origin, this plastic material has similar characteristics to Rilsan: corrosion resistance, impermeability, lightness, high resistance to ultraviolet rays... The majority of nylon products available from Etigo are fasteners and ties. Here are some of them :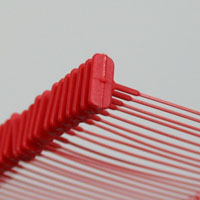 The label attachment
The thin clip is used to attach price labels to clothing or other fabric products. It is used with a labelling gun. This type of product is packaged in a strip of several quick releases.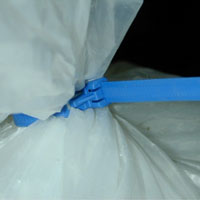 The reusable mounting bracket
The reusable clamp adjusts easily with its plastic head. To remove it, simply press the small clip on its head. It can be used to clamp bags and other objects. This plastic clamp is available in several colours and diameters.
All our reusable plastic clamps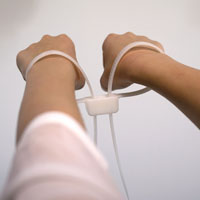 The handcuffs
The handcuffs are intended for security professionals and law enforcement agencies. Once attached, it is impossible to remove them without cutting them with pliers or scissors.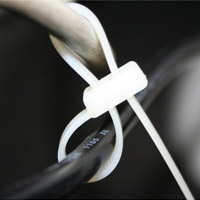 The double head clamping link
The double-headed cable tie is used to secure electrical cable harnesses. It is a single-use link that can be cut with scissors. It is available in several lengths.